Bootstrap UI Component Snippets
for Modern Web App and Landing Page
Bootstrap HTML5 UI Library, Snippets, Components and Toolkit for Creating Fast & Responsive - Landing Pages, Templates, or Websites by Copy-Pasting Blocks. Library of 300+ Beautiful and Essential - UI Components, Snippets, Blocks, Pages, and Templates That You Can Use to Create Complete Site Without Coding or Design from Scratch.
All Components
Core Features
Everything you need to create outstanding website user interfaces rapidly.
300+ UI Components
UI components and snippets that cover all you need to create almost any- business, startup, SaaS landing page, or site.
Copy-paste, Done!
Easy to use copy-paste interface depending on components, building web page never been easier!.
Universal UI ToolKit
Coded in Vanilla JS so you can use with your favorite tech stack. Such as - React, Vue, etc. without re-writing entirely.
Built-with Bootstrap 5
Based on latest Bootstrap 5, HTML5 and Vanilla JavaScript which is most popular front-end stack, no extra dependencies.
High-quality Design
Clean, beautiful & pixel-perfect design, rich typography and flawless UX to provide the best experience to end-users.
Clean Code
Super clean codes with detailed comments, taking full advantage of the latest coding conventions to make them more readable.
Choose Component, Copy-paste, and Live!
Create your own landing page or website just by choosing components you need, copy-paste snippets on editor, and you are done!
View Docs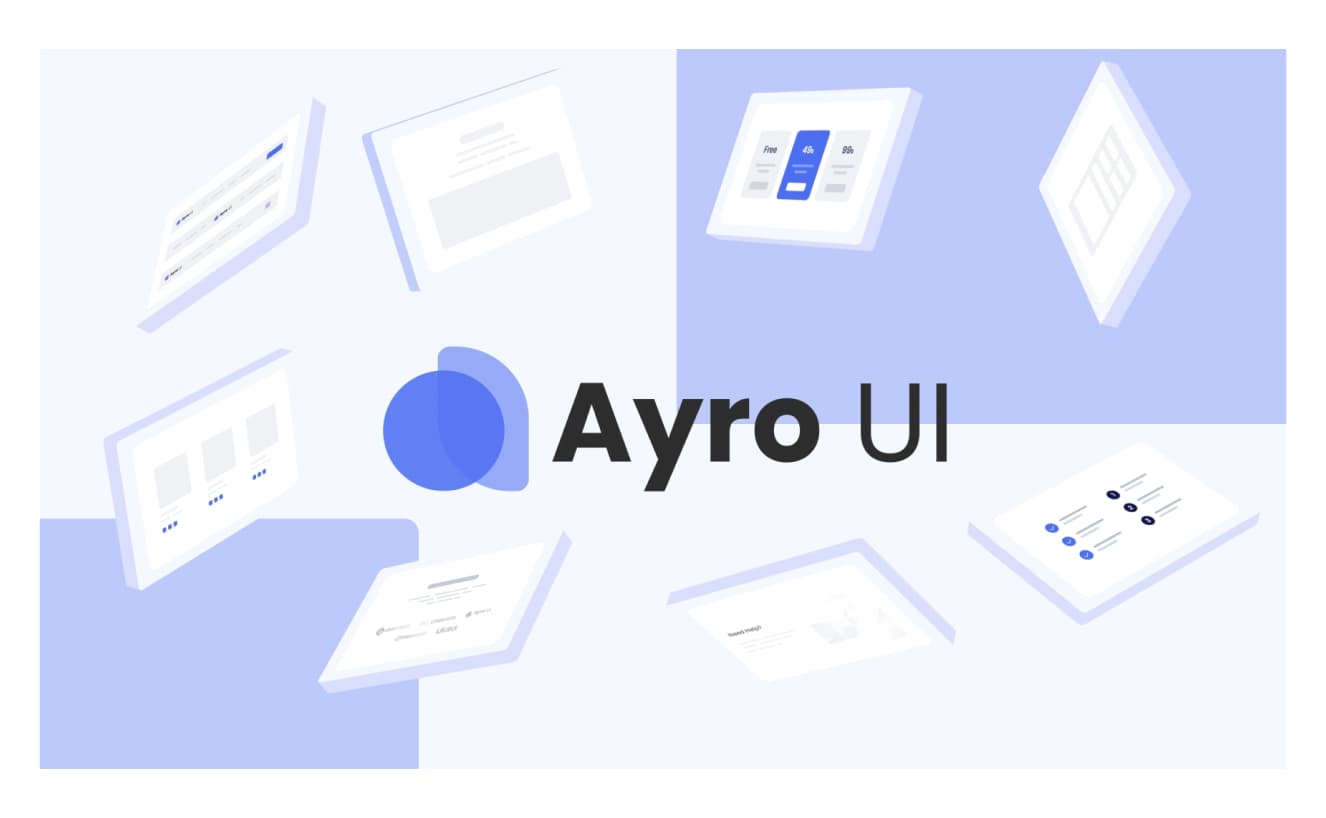 4 Templates and Counting
Full-featured ready to use website templates built-with Ayro UI components & snippets to kickstart your project
Battle-tested UI Library
Loved by thousands of developers and web entrepreneurs
17000+
Free and Pro Downloads
300+
UI Components and Counting
We Got You Covered
Includes support, documentation and everything you need ...
Free and Pro Components
Initially offering 300+ free and pro UI components, free lite version of Ayro UI is 100% free and open-source.
Rich Documentation
Dedicated documentation site where well-explained everything you need to know. So you can kickstart your project in a minute.
Premier Support
We provide email support to all of our customers, open a support ticket will get back to you within 24hrs.
Regular updates
We will keep adding new components-snippets and enhancing the entire UI library to make it better in all possible ways.
Use for Lifetime
You can use copy-pasted or downloaded components on your site for a lifetime, with no membership expiration barrier.
Developer Friendly
Components and snippets are coded in a way that you can use with any existing site and have the best possible control over customization.
What Our Users Says
Reviews from our customers and well-wishers
"Great work on the cleanness and functionality of every single components. Totally recommended :)

Juan Sarmiento
Founder, ByPeople
"Impressed by the massive and diverse collection of components, Love minimalism in design and easy-to-use copy-paste interface.

Marko Denic
Software Engineer and Dev Advocate
"I use this in my projects, love the designs. Very useful for me. I love the UI kits especially, thanks for making this

Fajar Siddiq
Serial Entrepreneur, Singapore
"This component library contains pretty much everything you may need to build your next web application

Csaba Kissi
Full-Stack Developer and Entrepreneur
"Finally, something like Tailwind UI for Bootstrap, such a useful product for all makers out there! Thanks for making this 🙏
Ryzal Yusoff
Founder, Reader Mode
"Even though I am a design person, I need to build site sometimes. Ayro UI empowered me to do more with my little HTML/CSS skills

"Large collection of essential UI components, a useful toolkit for Bootstrap lovers. I would love to see its Tailwind CSS version too

Fayaz Ahmed
Product Developer, Chatwoot
"Great source for nice and modern looking bootstrap snippets! and I was pretty much satisfied with free version of it!

"New project i am working on using the Ayro UI, really like the package and looking forward to sharing later!

Start Building Now
Get Unlimited Access to All Components
Ayro UI is here to make bootstrap great again - a complete UI library with tons of UI components, a design system, and everything you need to build a next-gen website layout using bootstrap and HTML5.
Get Started